Product Description
Detailed Photos
Product Description
Item Name 
Standrad transmission Roller Chains
Model
Series A, Series B
Row
Simplex
Duplex
Triplrex
Application
Machinery Parts
Suiface Treament
netural/sand-blasted/shot-peening
Certification 
ISO, ANSI, DIN, BS
Packing
Packaged in boxes and wooden cases, or packaged in reels and then on pallets
Port
Any sea port or airport in china
Standard roller chains are a type of industrial chain that is commonly used in power transmission
applications. They consist of a series of cylindrical rollers that are linked together by side plates.
The rollers rotate within the links, transmitting power from 1 sprocket to another.
Standard roller chains are available in a range of sizes and configurations to fit different industrial
applications. They are made from high-quality materials, such as carbon steel or stainless steel,
which are resistant to wear, corrosion, and fatigue.
These chains are designed to provide smooth and efficient power transmission, with minimal energy
loss. They have a high load-bearing capacity, making them suitable for use in heavy-duty machinery,
such as conveyors, elevators, and industrial equipment.
Standard roller chains are also easy to install and maintain, with simple lubrication requirements to
ensure long-lasting performance. Overall, they offer a reliable and cost-effective solution for power
transmission in a wide range of industrial applications.
Other Products
Company Profile
Packaging & Shipping
After Sales Service
| | |
| --- | --- |
| Standard or Nonstandard: | Standard |
| Application: | Textile Machinery, Garment Machinery, Conveyer Equipment, Packaging Machinery, Electric Cars, Motorcycle, Food Machinery, Mining Equipment, Agricultural Machinery |
| Surface Treatment: | Netural/Sand-Blasted/Shot-Peening |
| Material: | Carbon Steel |
| Type: | Short Pitch Chain |
| Main Materials: | It Is 40mn. 40cr, 45mn Alloy Steel or SUS304 for P |
Samples:

US$ 1.28/Meter

1 Meter(Min.Order)

|
Request Sample
Customization:

Available

|

Customized Request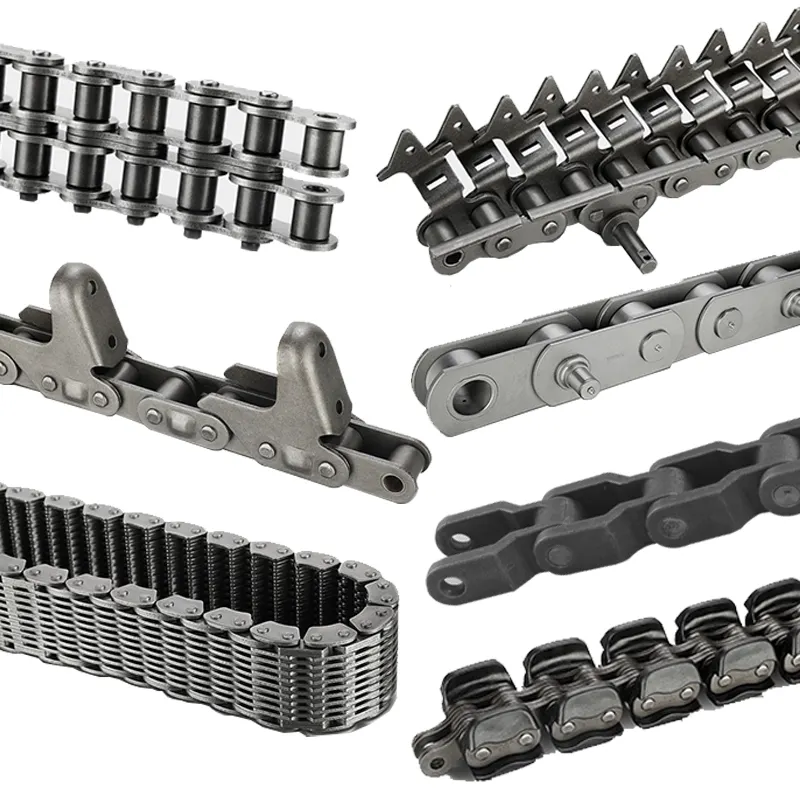 Can roller chains be used in low-temperature environments?
Yes, roller chains can be used in low-temperature environments, but there are several factors to consider for their proper performance and longevity:
1. Material Selection: Choose roller chains that are specifically designed for low-temperature applications. These chains are typically made from materials that can withstand the cold temperatures without becoming brittle or losing their mechanical properties. Common materials used in low-temperature roller chains include stainless steel, nickel-plated steel, or special alloys.
2. Lubrication: Proper lubrication is essential in low-temperature environments to ensure smooth operation and prevent excessive wear. However, it's important to consider the type of lubricant used as some lubricants may become less effective or thickened at low temperatures. Select lubricants that are specifically formulated for low-temperature applications to maintain proper chain lubrication and reduce friction.
3. Temperature Ratings: Check the temperature ratings provided by the roller chain manufacturer. Ensure that the roller chain is suitable for the specific low-temperature range of your application. Different roller chains have different temperature limits, and exceeding these limits can lead to decreased performance, increased wear, and potential chain failure.
4. Impact Resistance: Low temperatures can make materials more susceptible to impact damage. It's important to ensure that the roller chain selected has good impact resistance properties to withstand any sudden shocks or loads that may occur during operation in low-temperature environments.
5. Environmental Factors: Consider the overall environmental conditions of the low-temperature environment. Factors such as moisture, ice, or freezing conditions can affect the performance of roller chains. In such cases, additional protection measures like sealing, covers, or regular maintenance may be necessary to prevent ice formation or moisture ingress.
6. Regular Inspection and Maintenance: Regularly inspect the roller chains for signs of wear, damage, or inadequate lubrication. Monitor their performance and address any issues promptly. In low-temperature environments, extreme cold can exacerbate any existing issues, so proactive maintenance is crucial to ensure the continued reliability of the roller chains.
By considering these factors and selecting roller chains designed for low-temperature applications, you can ensure their proper functioning and durability in low-temperature environments.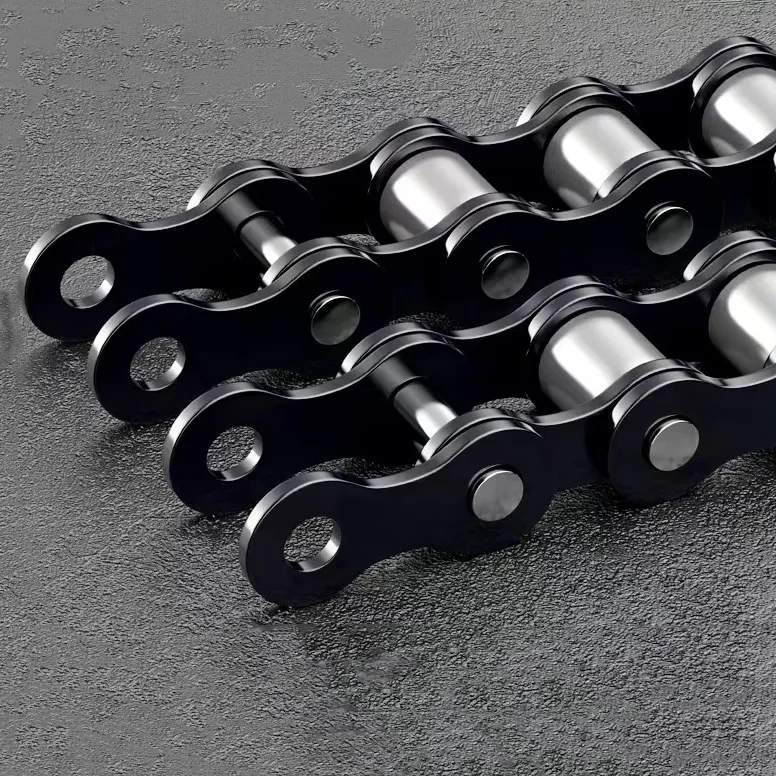 Can roller chains be used for power transmission in mining equipment?
Yes, roller chains can be used for power transmission in mining equipment. Here's a detailed answer to the question:
Mining equipment often requires robust and reliable power transmission systems to handle the demanding conditions and heavy loads encountered in mining operations. Roller chains have proven to be a suitable choice for power transmission in mining equipment due to their various advantages:
1. High Strength and Durability: Roller chains are designed to withstand high loads and provide reliable power transmission in challenging environments. They are made from high-strength materials such as alloy steel, which enables them to handle the heavy loads typically encountered in mining applications.
2. Resistance to Shock and Impact: Mining equipment often operates in rugged environments with frequent shock and impact loads. Roller chains are engineered to handle such conditions and can withstand the sudden changes in load and direction without compromising their performance or integrity.
3. Flexibility and Adaptability: Roller chains have inherent flexibility, allowing them to accommodate misalignment and angular movement between sprockets. This flexibility helps to ensure smooth and efficient power transmission even in applications where slight misalignments may occur due to the nature of the mining equipment.
4. Resistance to Contaminants: Mining environments can be dusty and contain abrasive particles. Roller chains are designed to resist contamination and maintain their performance even in dirty and harsh conditions. Proper sealing and lubrication can further enhance their resistance to contaminants.
5. Easy Maintenance and Replacement: Roller chains are relatively easy to maintain and replace. Regular inspection, lubrication, and tension adjustment can help ensure optimal performance and extend the lifespan of the chain. In case of wear or damage, individual chain links can be replaced without the need for replacing the entire chain, making maintenance more cost-effective.
It's important to note that when using roller chains in mining equipment, proper selection, installation, and maintenance are crucial. Working with reputable suppliers and following recommended guidelines for chain selection, lubrication, and tensioning can help maximize the performance and longevity of the roller chain system in mining applications.



editor by CX 2023-09-15