Product Description
Stainless Steel Chain For Food Processing Conveyor (180SS)
We supply all model stainless steel chain.
(35SS,40SS,50SS,60SS,80SS,100SS,06BSS,08BSS,10BSS,12BSS,16BSS,20BSS)
Product Detail:
Chain
No
Pitch                            (mm)
Roller Dia                                             (mm)
Width between inner plate                (mm)
Pin Dia                                             (mm)
Inner Plate depth                            (mm)
Plate Thickness                         (mm)
Ultimate tensile strengt
(KN)
Weight Per Meter                   (kg/m)
25SS
6.35
3.3
3.18
2.31
6.0
0.8
2.5
0.15
35SS
9.525
5.08
4.77
3.58
9.0
1.3
5.5
0.33
40SS
12.7
7.95
7.85
3.96
12.2
1.5
9.7
0.63
41SS
12.7
7.77
6.25
3.58
9.91
1.3
6.0
0.46
50SS
15.875
10.16
9.4
5.08
15.09
2.06
15.3
1.03
60SS
19.05
11.91
12.57
5.94
18.0
2.44
21.8
1.51
80SS
25.4
15.88
15.75
7.92
24.0
3.26
38.9
2.6
100SS
31.75
19.05
18.9
9.53
30.0
4.0
59
3.94
120SS
38.1
22.23
25.22
11.1
35.7
4.8
72.5
5.72
140SS
44.45
25.4
25.22
12.7
41.0
5.6
94.0
7.7
We own the sophisticated equipment and the advanced technology, such as: 
1. CAD Designer
2. Wire Cutting Machine
3. Chain Running In Machine
4. Conveyor Furance
5. Ball Drift
6. Shot Peened Parts
7. Design Of Link Plate Waist
Packaging accprding to the customers' demands
To make the clients' satifaction is our big goal and subject.
Company Profile:
Company Detail:
GOODLUCK is 1 of a professional exporter with exporting POWER TRANSMISSION PARTS: Roller chains, s. S. Chains, agricultural chains, steel detachable chains, special chains, sprockets, s. S. Sprockets, HRC couplings, pulleys, bushes etc. All these products have been supplied regularly to World Wide for over 15 years. 
Contact Detail:
Sofia (Sales Manager)
 
 
| | |
| --- | --- |
| Pitch: | 57.15 |
| Stainless: | Ss304, Ss316 |
| Pack: | Neutral Pack |
| Model: | 180ss |
| Trade Style: | Trade/Manufacture/OEM |
| Transport Package: | Polybag+Box+Plywood Case |
Customization:

Available

|

Customized Request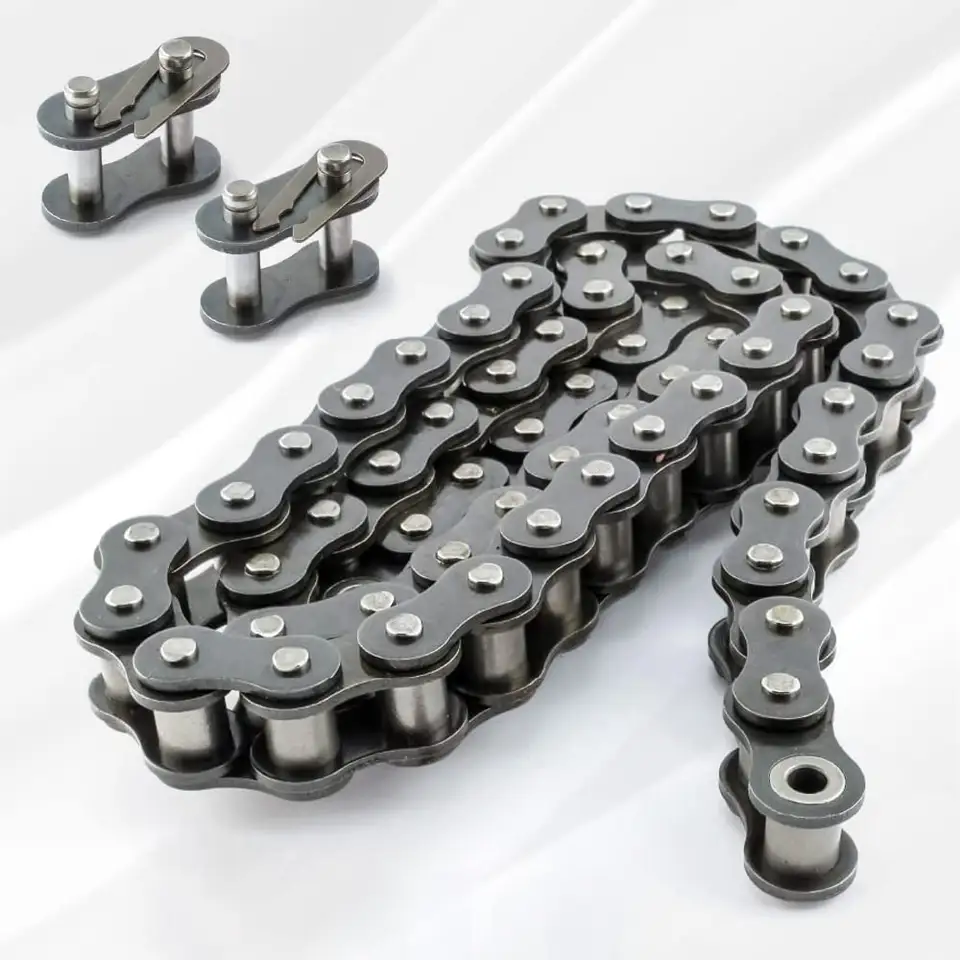 How do roller chains handle dusty or dirty environments?
Roller chains are designed to operate effectively in various environments, including dusty or dirty conditions. Here's a detailed answer to the question:
1. Sealed Construction: Many roller chains feature a sealed construction, which helps to protect the internal components from dust, dirt, and other contaminants. The seals help to prevent the entry of particles into the chain's joints and lubrication areas, reducing the risk of wear and damage caused by abrasive particles.
2. Proper Lubrication: Adequate lubrication is crucial in dusty or dirty environments. The lubricant forms a protective film on the chain's surfaces, reducing friction and wear. It also helps to flush away and prevent the accumulation of dirt and particles. Regular lubrication maintenance is necessary to ensure the chain remains properly lubricated and protected.
3. Periodic Cleaning: In dusty or dirty environments, it is important to periodically clean the roller chain to remove accumulated debris. This can be done using compressed air or gentle brushing. Care should be taken not to use excessive force or abrasive materials that could damage the chain.
4. Proper Chain Covering: In some applications, it may be necessary to use chain covers or guards to provide additional protection against dust and debris. These covers help to shield the chain from direct exposure to contaminants, reducing the risk of accelerated wear and damage.
5. Regular Inspection: Regular visual inspection of the roller chain is essential in dusty or dirty environments. This allows for the early detection of any signs of wear, corrosion, or contamination. If any issues are identified, appropriate maintenance or replacement should be performed promptly.
It's important to note that even with these measures, roller chains used in dusty or dirty environments will still require proper maintenance and periodic cleaning. Following manufacturer recommendations for lubrication, cleaning, and inspection will help ensure the longevity and reliable performance of the roller chain in such conditions.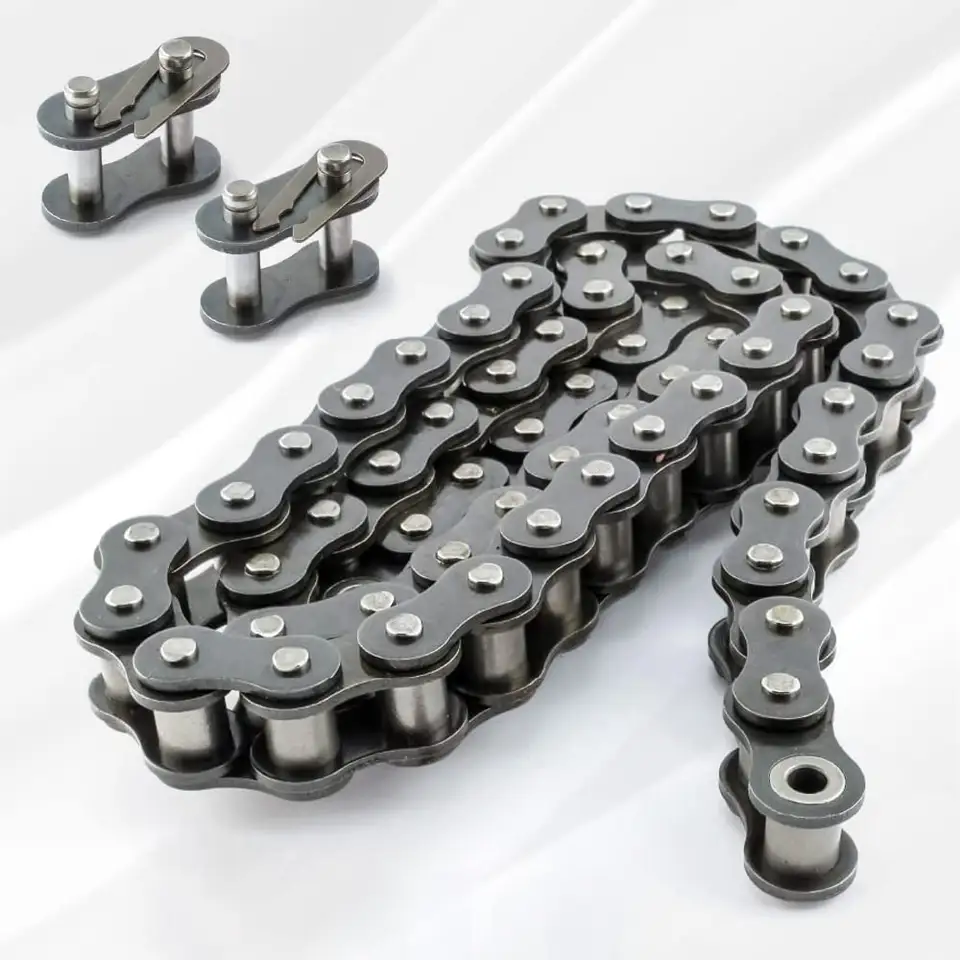 Can roller chains be used in underwater applications?
Roller chains are not typically recommended for direct use in underwater applications due to the potential for corrosion and water ingress. However, with appropriate modifications and additional protective measures, roller chains can be adapted for certain underwater applications. Here's a detailed answer to the question:
1. Corrosion Resistance: In underwater environments, corrosion is a significant concern. Roller chains can be manufactured from corrosion-resistant materials such as stainless steel or coated with anti-corrosion treatments to mitigate the effects of exposure to water and moisture.
2. Sealing and Waterproofing: Special seals, O-rings, or protective covers can be installed to prevent water ingress into the chain's internal components. These seals help to maintain lubrication and protect against corrosion, ensuring reliable operation even in wet conditions.
3. Lubrication Selection: Choosing the appropriate lubricant is crucial for underwater applications. Lubricants with excellent water resistance and corrosion protection properties should be selected to provide long-lasting lubrication in the submerged environment.
4. Maintenance and Inspection: Regular maintenance and inspection are essential to monitor the condition of the roller chain in underwater applications. This includes checking for signs of corrosion, lubricant degradation, or seal damage. Prompt replacement of worn or damaged components is necessary to prevent chain failure and ensure optimal performance.
It's important to consult with experts or manufacturers experienced in underwater applications to determine the suitability of roller chains for specific underwater environments. They can provide guidance on the necessary modifications, materials, and maintenance practices to ensure the safe and reliable operation of roller chains in such conditions.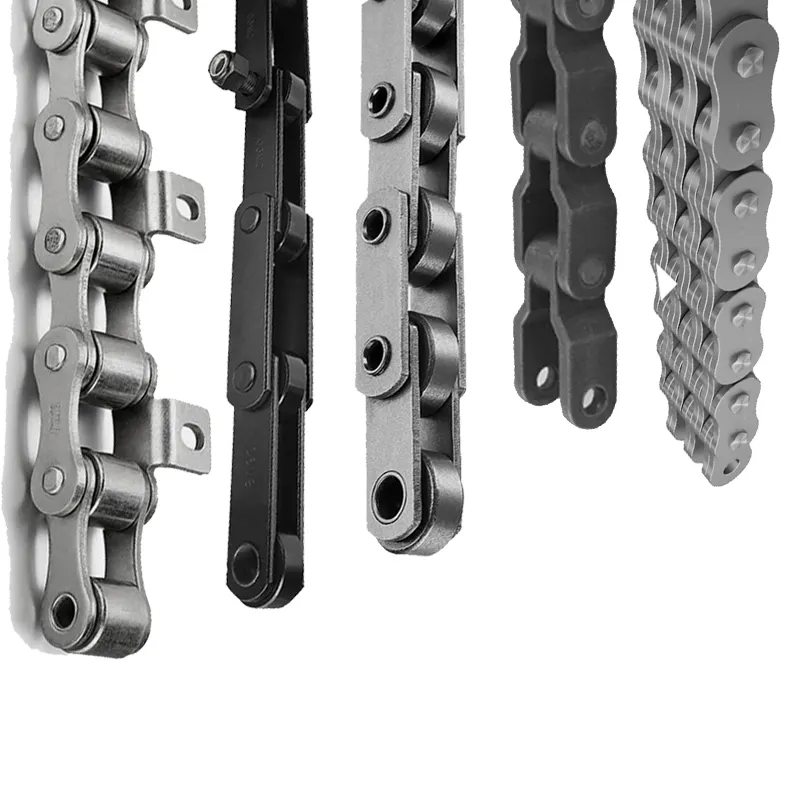 How do you properly lubricate a roller chain?
Proper lubrication is crucial for the performance and longevity of a roller chain. Here's a detailed answer to the question:
1. Clean the Chain: Before lubricating the roller chain, ensure that it is clean and free from dirt, debris, and old lubricant. Use a suitable cleaning agent or solvent to remove any contaminants.
2. Select the Right Lubricant: Choose a high-quality lubricant specifically designed for roller chains. Consider factors such as the operating conditions, load capacity, speed, and temperature range when selecting the lubricant. Consult the manufacturer's recommendations for the appropriate lubricant type and viscosity.
3. Apply the Lubricant: Apply the lubricant evenly to the entire length of the roller chain. You can use a lubrication system, brush, or spray applicator for effective coverage. Ensure that the lubricant penetrates between the rollers and bushings, as well as the pins and inner plates.
4. Remove Excess Lubricant: After applying the lubricant, remove any excess oil or grease from the chain. Excessive lubrication can attract dirt and debris, leading to accelerated wear and chain failure. Wipe off any excess lubricant using a clean cloth.
5. Reapply Lubricant Regularly: Roller chains require regular lubrication to maintain optimal performance. The frequency of lubrication depends on the operating conditions and the manufacturer's recommendations. In general, lubrication should be done at regular intervals or when the chain shows signs of dryness or wear.
6. Monitor and Inspect: Regularly monitor the condition of the lubricated roller chain. Look for any signs of wear, rust, or inadequate lubrication. If necessary, reapply the lubricant or adjust the lubrication frequency based on the chain's performance and operating conditions.
Proper lubrication helps reduce friction, wear, and heat generation, ensuring smooth operation and extending the life of the roller chain. Following the manufacturer's recommendations and best practices for lubrication will help maintain the chain's performance and prevent premature failure.



editor by CX 2023-09-07