Product Description
Product Description
Product Parameters
Standard
GB, ISO, ANSI, DIN
Type
Standard A and standard B precision roller chain, conveyor chain;
special chain with accessories, welding chain, leaf chain and sprocket
ANSI chain No.
40,50,60,80,100,120,140,160,180,200,240;
C40,C50,C60,C80,C100,C120,C140,C160;
DIN/ISO chain No.
08A,10A,12A,16A,20A,24A,28A,32A,36A,40A,48A;
C08A,C10A,C12A,C16A,C20A,C24A,C28A,C32A;
Application
Food processing, pharmaceutical and chemical industries, electronics, machinery;
household appliances, automotive manufacturing, metallurgy, sewage treatment
Series
A series,B series
More Products

Advantage
Certifications
DETAILS ABOUT CHINAMFG CHAIN 
Exhibition
Workshop
Application
Packaging Details
Shipping
FAQ
      
1. Are you a manufacturer or trade Company?
We are a factory founded in 1997 with a trade team for international service.
2. What terms of payment do you usually use?
T/T 30% deposit and 70% against document, Western Union, L/C at sight
3. What is your lead time for your goods?
Normally 35 days after confirmed order. 30 days could be available in the low season for some items (during May to July), and 45 days during the new year and hot season ( Jan to March).
4. Samples
For customers who need sample confirmation before ordering, please bear in mind that the following policy will be adopted:
1) All samples are free of charge with a maximum value not exceeding USD 100.
2) The courier cost for the first-time sample sending will be charged by the consignee. We will send the samples with freight to be collected. So please inform your account with FedEx, UPS, DHL, or TNT so that we can proceed promptly.
3) The first-time courier cost will be totally deducted from the contract value of the trial cooperation.
| | |
| --- | --- |
| Standard or Nonstandard: | Nonstandard |
| Application: | Textile Machinery, Garment Machinery, Conveyer Equipment, Packaging Machinery, Electric Cars, Motorcycle, Food Machinery, Marine, Mining Equipment, Agricultural Machinery, Car |
| Surface Treatment: | Polishing |
| Structure: | Roller Chain |
| Material: | Stainless Steel |
| Type: | Short Pitch Chain |
Samples:

US$ 0/Foot

1 Foot(Min.Order)

|
Request Sample
Customization:

Available

|

Customized Request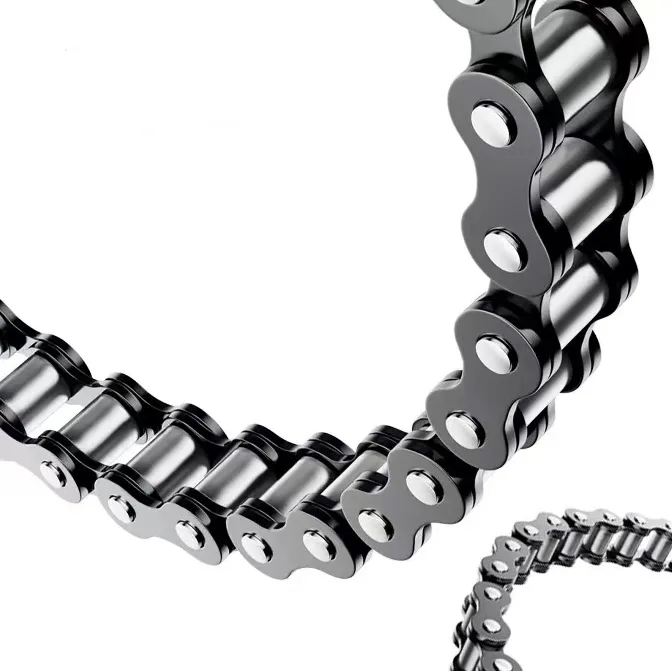 Are roller chains suitable for high-speed applications?
Roller chains are commonly used in a wide range of applications, including high-speed applications. Here's a detailed answer to the question:
1. Robust Design: Roller chains are designed to withstand high-speed operation. They are constructed using high-quality materials and undergo precision manufacturing processes to ensure strength, durability, and reliability. The design includes features such as hardened pins, solid rollers, and precision bushings, which contribute to their ability to handle high speeds.
2. Efficient Power Transmission: Roller chains provide efficient power transmission at high speeds. The smooth engagement between the chain and the sprockets allows for minimal energy loss, ensuring effective transfer of power from the driving sprocket to the driven sprocket. This is particularly important in high-speed applications where efficiency is crucial.
3. Lubrication and Heat Dissipation: Proper lubrication is essential for the smooth operation of roller chains at high speeds. Lubrication reduces friction and heat generation, which can occur during high-speed operation. The lubricant helps to minimize wear, reduce noise, and dissipate heat, ensuring the chain operates within its optimal temperature range.
4. Dynamic Balance: Roller chains are designed to maintain dynamic balance during high-speed rotation. The symmetrical design and uniform weight distribution of the chain links and rollers help minimize vibration and reduce the risk of chain jump or derailment. This promotes stable and reliable performance, even at high speeds.
It is important to select the appropriate type and size of roller chain for a specific high-speed application, considering factors such as the required load capacity, speed, environmental conditions, and lubrication requirements. Regular maintenance, including proper lubrication, tension adjustment, and inspection of the chain and sprockets, is also crucial to ensure safe and reliable operation at high speeds.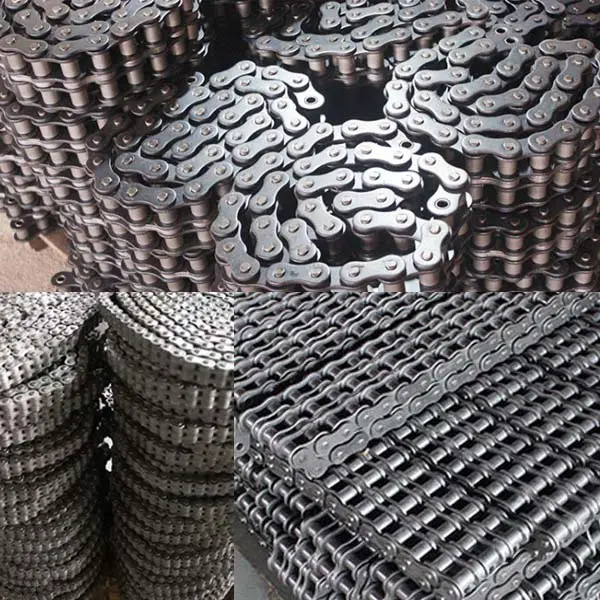 How do roller chains handle lateral loads?
Roller chains are primarily designed to handle axial loads, which are loads acting in the direction of the chain's axis. However, roller chains can also tolerate a certain degree of lateral loads, which are loads acting perpendicular to the chain's axis. Here's a detailed answer to the question:
1. Sprocket Alignment: Proper sprocket alignment is crucial for roller chains to effectively handle lateral loads. The sprockets must be aligned in a parallel and concentric manner to ensure that the chain tracks properly and experiences minimal lateral force. Misaligned sprockets can cause the chain to derail or experience excessive wear due to uneven loading.
2. Tolerance for Lateral Misalignment: Roller chains have some tolerance for lateral misalignment between the sprockets. This means that the chain can tolerate a slight deviation from a perfectly straight line between the sprockets. The chain's side plates and rollers are designed to provide some flexibility, allowing the chain to adjust to minor lateral forces without significant problems.
3. Guide Rails or Flanges: In applications where lateral loads are more significant, guide rails or flanges can be employed to help keep the roller chain aligned and prevent excessive lateral movement. These additional components act as guides and help control the chain's lateral displacement, ensuring that it remains on the sprockets and operates smoothly.
4. Chain Tension: Proper chain tension is crucial for handling lateral loads. A well-tensioned chain minimizes slack and reduces the chances of lateral movement. It helps keep the chain engaged with the sprockets and ensures that the load is evenly distributed across the chain's width.
It's important to note that roller chains have a primary function of transmitting power and handling axial loads. While they can handle some lateral loads within their design limits, excessive lateral forces can lead to chain derailment, increased wear, and reduced performance. Therefore, it's essential to design the system properly, consider the anticipated lateral loads, and ensure proper alignment and tension to maintain the chain's integrity and performance.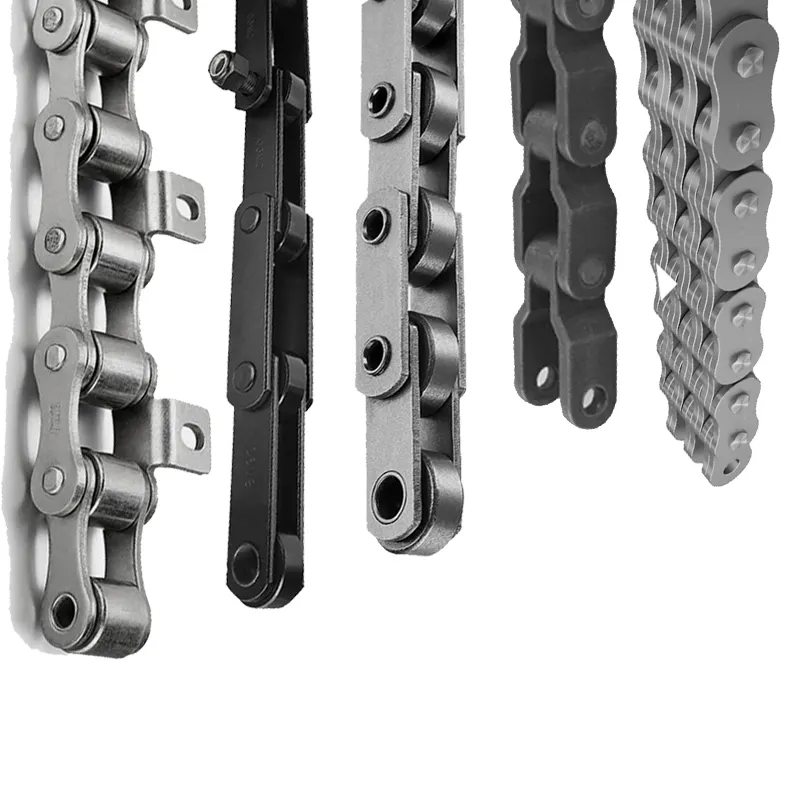 Can roller chains be used for vertical lifting applications?
Yes, roller chains can be used for vertical lifting applications in certain circumstances. However, it is important to consider various factors to ensure safe and efficient operation. Here's a detailed answer to the question:
Roller chains are primarily designed for transmitting power and motion in horizontal or slightly inclined applications. When used for vertical lifting, additional considerations must be taken into account:
1. Load Capacity: Roller chains have a rated load capacity that indicates the maximum weight they can safely lift. It is crucial to select a roller chain with a sufficient load capacity for the specific lifting application. Factors such as the weight of the load, acceleration, and dynamic forces should be considered to ensure the chain can handle the load without excessive stress.
2. Safety Measures: Vertical lifting applications require appropriate safety measures to prevent accidents or chain failure. These may include the use of safety devices such as overload protection mechanisms, emergency stops, and redundant systems. Safety standards and regulations specific to the lifting industry should be followed to ensure compliance and mitigate potential hazards.
3. Lubrication and Maintenance: Proper lubrication is critical for the smooth and reliable operation of roller chains in any application, including vertical lifting. Regular lubrication and maintenance help reduce wear, friction, and the risk of chain failure. It is important to follow the manufacturer's recommendations for lubrication intervals and use the appropriate lubricant for the specific operating conditions.
4. Chain Tension: Maintaining proper chain tension is crucial for the safe and efficient operation of roller chains in vertical lifting applications. Adequate tension ensures proper engagement with the sprockets and minimizes the risk of chain slippage or disengagement. Regular inspection and adjustment of chain tension are necessary to ensure reliable performance.
While roller chains can be used for vertical lifting, it is important to consult with industry experts or engineers experienced in lifting applications to determine the suitability of roller chains for a specific vertical lifting task. They can provide guidance on selecting the appropriate chain size, design, and safety measures to ensure the lifting operation is safe, efficient, and compliant with applicable regulations.



editor by CX 2023-10-17