Product Description
ISO/ANSI/DIN Standard  Short Pitch Precision Stainless Steel Hardware Transmission Motorcycle Industrial Roller Chain
 
Product Description

1. Material: Stainless Steel 304 & 316 / Alloy Carbon Steel
2. Surface Treatment: Shot peening / Zinc-plated / Nickel-plated / Dacromet-plated
3. Chain No:
35SS-1, 40SS-1, 50SS-1, 60SS-1, 80SS-1, 100SS-1, 120SS-1, 140SS-1;
35SS-2, 40SS-2, 50SS-2, 60SS-2, 80SS-2, 100SS-2, 120SS-2, 140SS-2;
35SS-3, 40SS-3, 50SS-3, 60SS-3, 80SS-3, 100SS-3, 120SS-3, 140SS-3;
4. Application: Stainless Steel Chains are used in so many industries, such as machine manufacturing, food machine, etc. Also are suitable for high and low temperature conditions.
5. Characteristic:
1. The chain can be used on the both sides of multi-axle transmission.
2. Easy installation and replacement.
3. It can obtain larger reduction ratio.
4. The roller chain has good elasticity, high strength and each hinge part has lubricating oil, so it can be stored easliy. Thus, compared with the rigid contact tooth, it has good cushioning and vibration absorbing ability.
 
Product name
Stainless Steel Roller Chain From China
Materials Available 
1. Stainless Steel: SS304, SS316, etc
2. Alloy Steel: 45Mn, 42CrMo, 20CrMo, etc
3. OEM according to your request
Surface Treatment
Shot peening, Blackening, Oxygenation, Polishing, Zinc-plated, Nickel-plated, Anodized, etc.
Characteristic
Fire Resistant, Oil Resistant, Heat Resistant
Design criterion
ISO DIN ANSI & Customer's Drawing
Size
Customer's Drawing & ISO standard 
Package
Wooden Case / Container and pallet, or made-to-order
Certificate
ISO9001: 2008 
Advantage
First quality, Best service, Competitive price, Fast delivery
Delivery Time
20 days for samples. 45 days for official order.
Detailed Photos


View more products,please click here…
 
Company Profile
| | |
| --- | --- |
| Usage: | Transmission Chain |
| Material: | Stainless steel |
| Structure: | Roller Chain |
| 40-1: | 1/2" |
| 50-1: | 5/8" |
| 60-1: | 3/4" |
Samples:

US$ 0/Meter

1 Meter(Min.Order)

|
Request Sample
Customization:

Available

|

Customized Request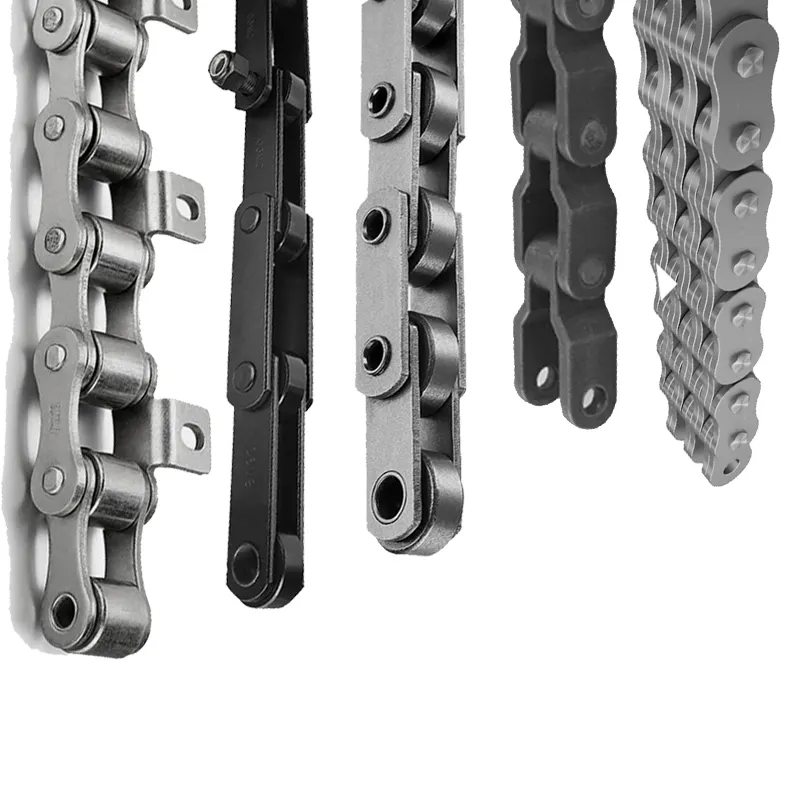 Can roller chains be used for power transmission in bicycles?
Yes, roller chains are commonly used for power transmission in bicycles. Here's a detailed answer to the question:
Roller chains are an integral component of bicycle drivetrains, transmitting power from the pedals to the rear wheel. They offer several advantages that make them well-suited for this application:
1. Efficient Power Transfer: Roller chains provide efficient power transfer from the rider's pedaling force to the rear wheel of the bicycle. They have low frictional losses, allowing for a smooth and efficient transfer of energy, resulting in better propulsion and improved performance.
2. High Strength and Durability: Roller chains used in bicycles are designed to withstand the forces exerted during pedaling and the varying loads encountered during riding. They are constructed using high-quality materials and precise manufacturing techniques to ensure strength and durability.
3. Lightweight: Roller chains used in bicycles are lightweight, contributing to the overall weight reduction of the bike. This is important for cyclists as it allows for faster acceleration, easier maneuverability, and enhanced handling.
4. Versatility: Roller chains are available in various sizes and configurations, allowing them to be used in different types of bicycles. Whether it's a road bike, mountain bike, or city bike, roller chains can be adapted to suit the specific requirements of the bike's drivetrain.
5. Easy Maintenance: Roller chains in bicycles require regular maintenance to ensure optimal performance and longevity. Proper lubrication and periodic cleaning are essential to prevent wear and corrosion. Fortunately, bicycle chains are relatively easy to maintain and can be readily accessed for cleaning and lubrication.
6. Cost-Effective Solution: Roller chains offer a cost-effective solution for power transmission in bicycles. They are affordable and widely available, making them a practical choice for bike manufacturers and cyclists alike.
In summary, roller chains are commonly used for power transmission in bicycles due to their efficient power transfer, strength, durability, lightweight nature, versatility, ease of maintenance, and cost-effectiveness. They play a crucial role in ensuring a smooth and reliable ride for cyclists of all types and skill levels.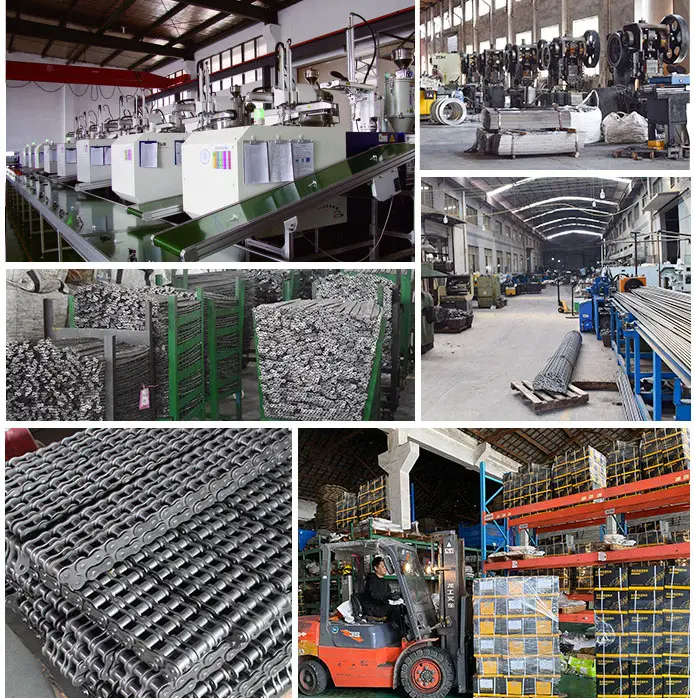 Can roller chains be used for power transmission in construction equipment?
Roller chains can indeed be used for power transmission in construction equipment. Here's a detailed answer to the question:
Construction equipment often requires a reliable and robust power transmission system to handle heavy loads and operate in demanding environments. Roller chains offer several advantages that make them well-suited for power transmission in construction equipment:
1. High Strength: Roller chains are designed to withstand high tensile and impact loads, making them suitable for the heavy-duty requirements of construction equipment. They are capable of transmitting substantial power without deformation or failure.
2. Durability: Construction sites can expose equipment to harsh conditions such as dust, debris, and vibrations. Roller chains are built to be durable and resistant to these challenging environments. They are constructed from high-quality materials and undergo heat treatment processes to enhance their strength and wear resistance.
3. Versatility: Roller chains can be used in various construction equipment applications, including excavators, loaders, bulldozers, cranes, and concrete mixers. They can efficiently transmit power from the engine to different components such as wheels, tracks, and attachments, allowing the equipment to perform a wide range of tasks.
4. Cost-Effectiveness: Roller chains offer a cost-effective solution for power transmission in construction equipment. They have a relatively low initial cost compared to alternative systems, and their durability and long service life contribute to lower maintenance and replacement costs over time.
5. Easy Installation and Maintenance: Roller chains are easy to install and maintain, requiring regular lubrication and periodic inspection for wear and proper tension. Maintenance tasks can be performed on-site, reducing downtime and increasing equipment availability.
It's important to note that proper chain selection, sizing, and maintenance are crucial for ensuring optimal performance and longevity in construction equipment applications. Following the manufacturer's guidelines and recommendations for chain installation, lubrication, and tensioning is essential to maximize the efficiency and reliability of the power transmission system.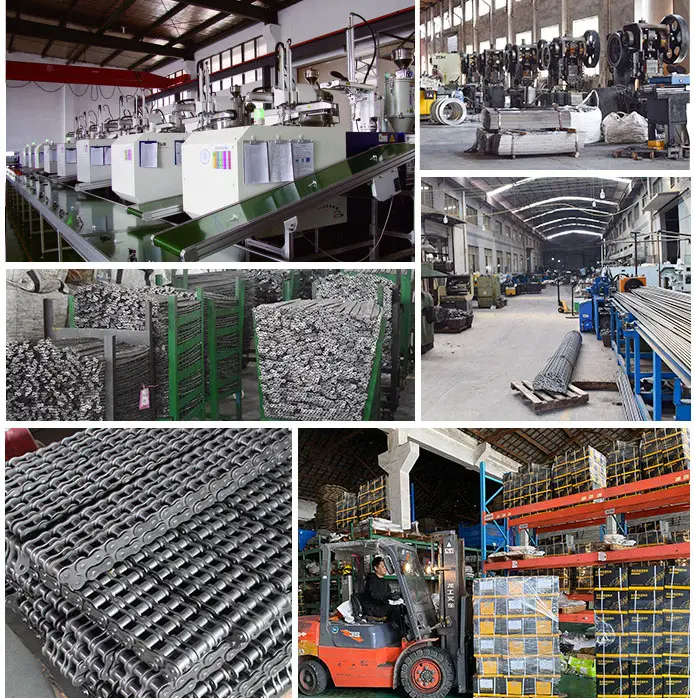 What are the different types of roller chains available?
Roller chains come in various types and configurations to suit different applications and requirements. Here's a detailed answer to the question:
1. Standard Roller Chain: This is the most common type of roller chain and is widely used in general-purpose applications. It consists of inner and outer plates, rollers, and pins.
2. Double Pitch Roller Chain: Double pitch roller chains have twice the pitch length of standard roller chains. They are commonly used in applications where slower speeds and lighter loads are present, such as conveyor systems.
3. Heavy-Duty Roller Chain: Heavy-duty roller chains are designed to withstand higher loads and more demanding operating conditions. They feature thicker plates, larger rollers, and stronger pins, offering increased strength and durability.
4. Stainless Steel Roller Chain: Stainless steel roller chains are made from corrosion-resistant stainless steel material. They are suitable for applications where resistance to moisture, chemicals, and harsh environments is required, such as food processing, pharmaceutical, and marine industries.
5. Nickel-Plated Roller Chain: Nickel-plated roller chains have a layer of nickel plating on the outer plates, providing additional corrosion resistance. They are often used in applications where protection against rust and wear is essential.
6. O-Ring Roller Chain: O-ring roller chains have O-ring seals between the outer plates and rollers. The O-rings help retain lubrication and prevent contamination, resulting in reduced maintenance requirements and extended chain life.
7. Lube-Free Roller Chain: Lube-free roller chains incorporate self-lubricating bushings or rollers that eliminate the need for external lubrication. They are suitable for applications where maintenance-free operation and clean environments are required.
8. Attachment Roller Chain: Attachment roller chains have special attachments on the outer plates, allowing for the attachment of various accessories or components. They are commonly used in applications such as conveying, lifting, or indexing systems.
9. Silent Chain: Silent chains, also known as inverted tooth chains, have tooth-shaped links that engage with the sprockets. They offer smooth and quiet operation and are often used in applications where noise reduction is critical, such as timing drives.
10. Leaf Chain: Leaf chains consist of interlocking links with large flat plates connected by pins. They are commonly used in applications requiring high strength and durability, such as forklifts and lifting devices.
Each type of roller chain has its own unique features and advantages. The selection of the appropriate type depends on factors such as load capacity, speed, environment, and specific application requirements.



editor by CX 2023-10-27