Product Description
Product

Standard Double Pitch Roller chain

Material

40Mn steel,304 stainless steel, 316 stainless steel and 201 stainless steel.

Types

Standard chains and special chains, such as A or B series chains, roller chains, driving chains, conveyor chains, hoisting chains, agricultural chains, sprockets, gears, wheels and so on.

Series

 A series(12.7-50.8mm pitches),B series (9.525-50.8mm pitches)and the heavy series.

Short pitch precision roller chain

Simplex Roller Chains&Bushing Chains: 

04C-1,06C-1,085-1,08A-1,10A-1,12A-1,16A-1,20A-1,24A-1,28A-1,32A-1,36A-1,40A-1,48A-1
Duplex Roller Chains&Bushing Chains:

04C-2,06C-2,085-2,08A-2,10A-2,12A-2,16A-2,20A-2,24A-2,28A-2,32A-2,36A-2,40A-2,48A-2
Triplex Roller Chains&Bushing Chains:

04C-3,06C-2,085-3,08A-3,10A-3,12A-3,16A-3,20A-3,24A-3,28A-3,32A-3,36A-3,40A-3,48A-3

Chain link type

Standard links (without attachment) and non-standard links (with attachment).

 

A1: One-side,one hole cranked attachments.
A2: One-side,two holes cranked attachments.
K1: Both-side,one hole cranked attachments.
K2: Both-side,two hole cranked attachments.
D1: One-side,an extended pin on every outer link.
D3: One-side,two extended pin on every outer link.

Our Products Advantage

1. Every step from production order to the packing process has a strict quality inspection.
2. We have standard roller chain with 1.5 CHINAMFG (DIN. ANSI.); Non-standard roller chain (customized acording to customer drawings).
3. Export products with high quality and low price.
4.We have a good service before and after-sale.
1.Fast delivery: Standard products can be delivered in as fast as 20 days
2.Good service: timely reply, prompt quotation, responsible for the product
3.High cost performance: can maintain price stability for a certain period of time, bringing greater profits to customers
4.Good quality: production and testing have corresponding supervision to ensure product quality and get high praise from customers
5.OEM service: products can be customized according to drawings and requirements
We are responsible for the ordered products. We are very confident in the products we produce. Of course, if you have any problems after receiving the goods, you can contact us directly. We will confirm and negotiate in time to solve your difficulties.
| | |
| --- | --- |
| Standard or Nonstandard: | Standard |
| Application: | Textile Machinery, Garment Machinery, Conveyer Equipment, Packaging Machinery, Food Machinery, Mining Equipment, Agricultural Machinery |
| Surface Treatment: | Oil Blooming |
| Structure: | Roller Chain |
| Material: | Alloy |
| Type: | Double Pitch Chain |
Samples:

US$ 35/kg

1 kg(Min.Order)

|
Request Sample
Customization:

Available

|

Customized Request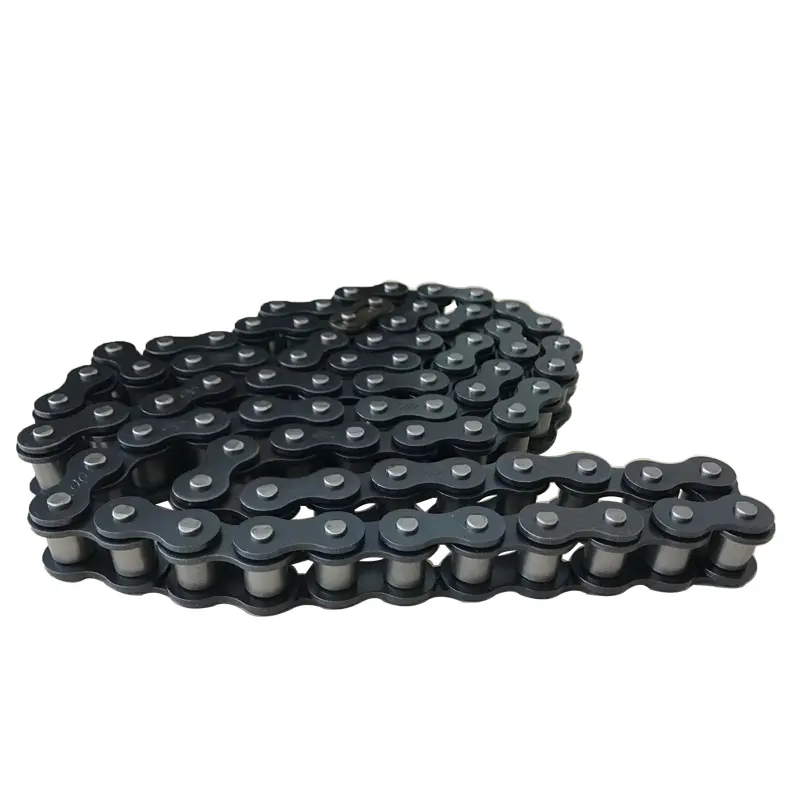 Are there any special considerations for installing roller chains?
Proper installation of roller chains is crucial to ensure their optimal performance and longevity. Here are some key considerations for installing roller chains:
1. Alignment: Ensure proper alignment of the sprockets to prevent side loading and premature wear. The sprockets should be aligned parallel to each other and positioned at the correct distance according to the chain's pitch.
2. Tension: Proper chain tension is essential for smooth operation and to prevent excessive wear. Follow the manufacturer's recommendations for the appropriate tension based on the specific chain type and application. It's important to achieve the correct tension without over-tightening, as excessive tension can lead to increased stress and accelerated wear.
3. Lubrication: Apply the appropriate lubricant to the roller chain during installation. Lubrication helps reduce friction, wear, and heat generation. Follow the manufacturer's recommendations for the type and frequency of lubrication based on the operating conditions and chain design. Ensure even distribution of lubricant along the chain's length.
4. Sprocket Teeth Engagement: Check that the chain properly engages with the teeth of the sprockets. The chain should fit snugly into the sprocket teeth without excessive clearance or interference. Incorrect engagement can cause slippage, uneven wear, and premature failure.
5. Chain Length: Ensure that the chain length is appropriate for the application. Avoid excessive slack or excessive tension by adjusting the chain length accordingly. An incorrectly sized chain can lead to poor performance, increased wear, and potential damage to the chain and sprockets.
6. Protection: Consider using chain guards or covers to protect the roller chain from external contaminants such as dust, dirt, or debris. This helps minimize wear and extends the chain's lifespan, particularly in harsh or dirty environments.
7. Regular Inspection: Regularly inspect the roller chain and sprockets for signs of wear, damage, or misalignment. Monitor the chain's performance and address any issues promptly to avoid further damage and prevent unexpected downtime.
8. Proper Tools and Techniques: Use appropriate tools and techniques during installation to ensure accuracy and prevent damage to the chain or components. Follow the manufacturer's guidelines or consult with experts for specific installation instructions.
By following these considerations and best practices, you can ensure proper installation of roller chains and maximize their performance and durability in your application.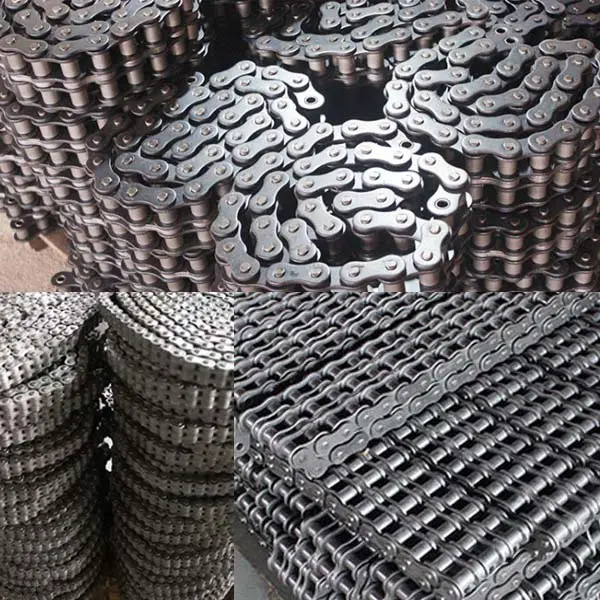 How do roller chains handle reverse motion?
Roller chains are capable of handling reverse motion in applications where the direction of movement needs to be reversed. Here's a detailed answer to the question:
1. Bi-Directional Operation: Roller chains are designed to operate in both forward and reverse directions. The chain links and rollers are constructed to engage with the sprockets in either direction, allowing the chain to smoothly transfer power and motion.
2. Engagement with Sprockets: When the roller chain is in reverse motion, the rollers on the chain engage with the sprocket teeth in the opposite direction compared to forward motion. The engagement between the chain and the sprockets ensures a secure and reliable power transmission, allowing the chain to efficiently transfer motion in reverse.
3. Lubrication and Maintenance: Proper lubrication is essential for the smooth operation of roller chains, including during reverse motion. Adequate lubrication reduces friction and wear, ensuring the chain's longevity and performance. Regular maintenance, including lubrication and inspection, helps identify any issues that may affect the chain's ability to handle reverse motion and allows for timely corrective actions.
4. Proper Tensioning: Maintaining proper tension in the roller chain is crucial for its performance in both forward and reverse motion. Adequate tension ensures the chain remains engaged with the sprockets and prevents slippage or disengagement during reverse operation. Proper tensioning can be achieved through tensioning devices or adjustable mounting arrangements.
5. Load Capacity: Roller chains are designed to handle various loads, including reverse motion. However, it's important to consider the specific application requirements and select a roller chain with the appropriate load capacity and strength to withstand the forces experienced during reverse operation.
6. Alignment and Installation: Proper alignment of the roller chain and the sprockets is essential for reliable performance in both forward and reverse motion. Ensuring correct installation, including proper alignment and tensioning, helps maintain the chain's engagement with the sprockets and ensures smooth operation in reverse.
It's worth noting that the specific application requirements, such as speed, load, environmental conditions, and the type of roller chain, should be considered when determining the suitability of roller chains for reverse motion. Consulting the manufacturer's guidelines and recommendations is important to ensure proper selection, installation, and maintenance of roller chains in applications involving reverse operation.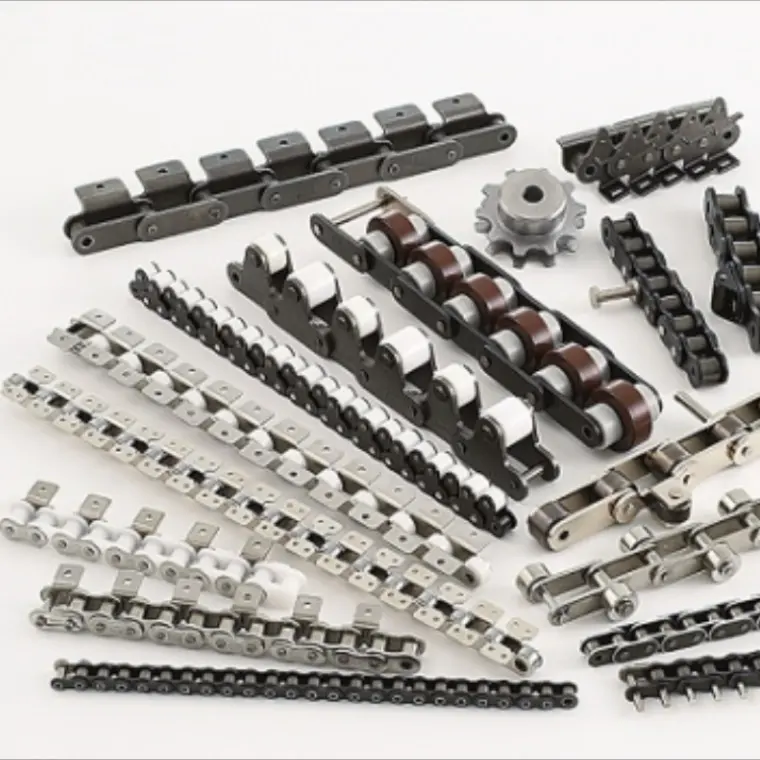 What is a roller chain and how does it work?
A roller chain is a type of transmission chain that is commonly used in various mechanical systems to transmit power and motion between rotating shafts. It consists of a series of interconnected links, including inner plates, outer plates, rollers, and pins. Here's a detailed answer to the question:
A roller chain operates based on the principle of contact and rolling motion. The basic components of a roller chain include:
Inner Plates: These are flat metal plates with holes through which the pins pass.
Outer Plates: These are similar to inner plates and are connected to the inner plates through pins.
Rollers: The rollers are cylindrical components that are positioned between the inner and outer plates. They have a slightly larger diameter than the pins, allowing them to freely rotate.
Pins: The pins hold the inner and outer plates together and provide a pivot point for the rollers. They pass through the holes in the inner and outer plates and secure them in place.
When the roller chain is installed in a system, it wraps around a pair of sprockets. The sprockets have teeth that mesh with the rollers of the chain. As one sprocket rotates, it engages with the rollers and pulls the chain along, causing the other sprocket to rotate as well.
The working principle of a roller chain involves the following steps:
Engagement: The chain is positioned around the sprockets, and the rollers engage with the teeth of the sprockets.
Tension: The tension in the chain is created by the movement of the sprockets, which causes the chain to wrap tightly around them.
Rolling Motion: As the sprockets rotate, they impart a rolling motion to the rollers. The rollers, in turn, rotate freely on the pins, allowing the chain to move smoothly along the sprockets.
Power Transmission: The rotational motion of one sprocket is transferred to the other sprocket through the chain. This enables the transmission of power and motion between the two shafts connected to the sprockets.
Roller chains are widely used in various applications, including machinery, automobiles, motorcycles, bicycles, conveyors, and more. They offer high efficiency, reliability, and the ability to transmit substantial amounts of power. Regular maintenance, including lubrication and periodic inspection, is essential to ensure the proper functioning and longevity of a roller chain.



editor by CX 2023-10-25