Product Description
Hollow Pin Stainless Steel Roller Chain From China
 
Product Description
1. Material: Alloy steel & Stainless steel
2. Surface treatment: Shot peening / Zinc-plated / Nickel-plated / Dacromet-plated
3. Application: The hollow pin chain is mainly used in products transmission.
4.  Chain No: 
Type A 08BHPFSS, 40HPSS, 50HPSS, 60HPSS, 80HPSS, 12BHPSS, etc
Type B C2040HPSS, C2050HPSS, C2060HPSS, C2080HPSS, etc
 
Product name 
Hollow Pin Stainless Steel Roller Chain From China
Materials Available 
1. Stainless Steel: SS304, SS316, etc
2. Alloy Steel: 45Mn, 42CrMo, etc
3. OEM according to your request
Surface Treatment
Shot peening, Polishing, Oxygenation, Blackening, Zinc-plated, Nickel-plated, Anodized, etc.
Characteristic
Fire Resistant, Oil Resistant, Heat Resistant
Application
Industry machine
Design criterion
ISO DIN ANSI & Customer's Drawing
Size
Customer's Drawing & ISO standard 
Package
Wooden Case / Container and pallet, or made-to-order
Certificate
ISO9001: 2008 
Advantage
Quality first, service first, competitive price, fast delivery
Delivery Time
20 days for samples. 45 days for official order.
Detailed Photos
View more products,please click here…
Company Profile
| | |
| --- | --- |
| Material: | Stainless Steel |
| Structure: | Roller Chain |
| Chain Size: | C2042hpss, C2052hpss |
| Feature: | Heat Resistant |
| Sample: | for Free |
| Transport Package: | Plastic Bag+Carton Box+Plywood Case |
Samples:

US$ 0/Meter

1 Meter(Min.Order)

|
Request Sample
Customization:

Available

|

Customized Request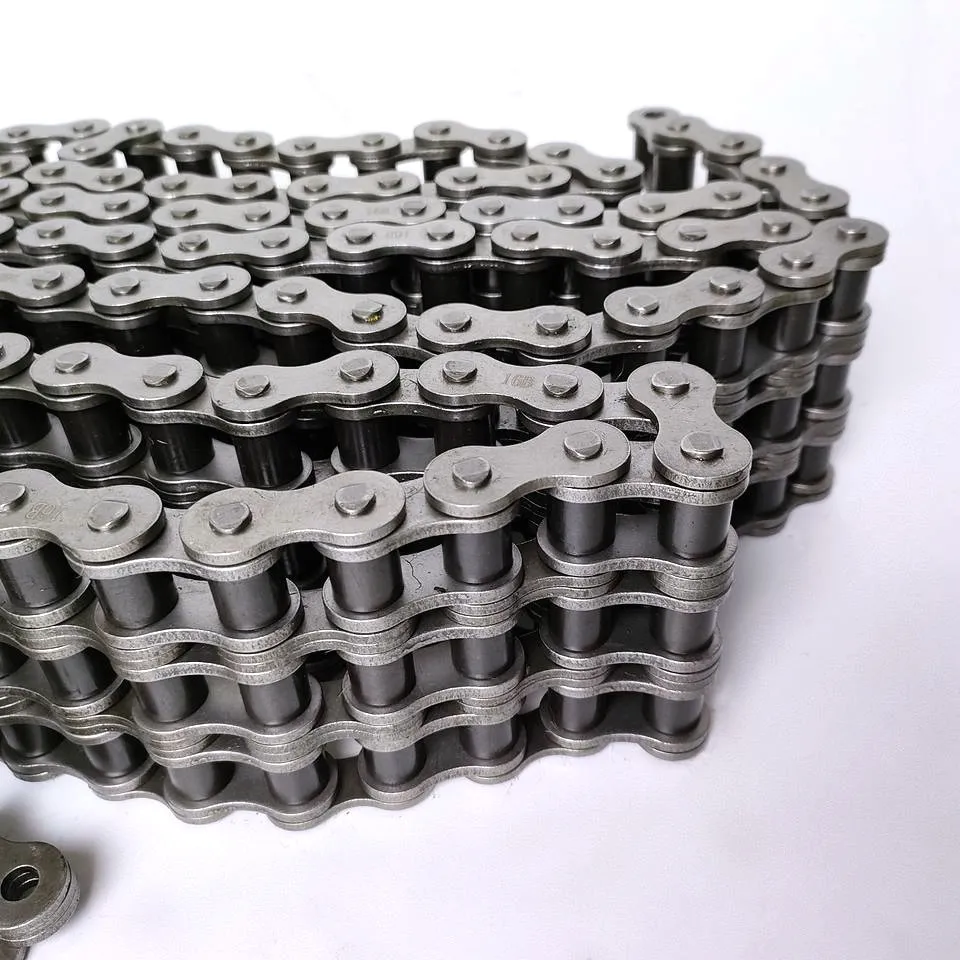 Can roller chains be used for power transmission in motorcycles?
Yes, roller chains are commonly used for power transmission in motorcycles. Here's a detailed answer to the question:
Roller chains have several advantages that make them suitable for power transmission in motorcycles:
1. Efficient Power Transfer: Roller chains offer high efficiency in transmitting power from the engine to the rear wheel of a motorcycle. They have minimal power loss due to their low friction and high load-carrying capacity.
2. Compact Design: Roller chains have a compact and lightweight design, making them well-suited for motorcycles where space and weight are critical considerations. Their small size allows for efficient power transfer without adding excessive weight to the motorcycle.
3. High Strength and Durability: Roller chains are designed to withstand high loads and endure the demanding operating conditions of motorcycles. They are constructed using high-strength materials such as alloy steel and undergo heat treatment to enhance their strength and durability.
4. Flexibility and Adaptability: Roller chains can accommodate various sprocket sizes, allowing for flexibility in gear ratios and customization of motorcycle performance. This enables riders to optimize the power delivery to match their riding preferences and specific road conditions.
5. Easy Maintenance: Roller chains are relatively easy to maintain in motorcycles. Regular lubrication and tension adjustment are necessary to ensure optimal performance and prolong the chain's lifespan. Proper maintenance practices can help prevent chain elongation, reduce wear, and minimize the risk of chain failure.
However, it's important to note that roller chains require regular inspection and maintenance to ensure safe and reliable operation. This includes checking for proper tension, lubrication, and signs of wear or damage. It's also crucial to follow the manufacturer's recommendations regarding chain replacement intervals and lubrication specifications.
Overall, roller chains provide an efficient and reliable method of power transmission in motorcycles, offering durability, flexibility, and ease of maintenance.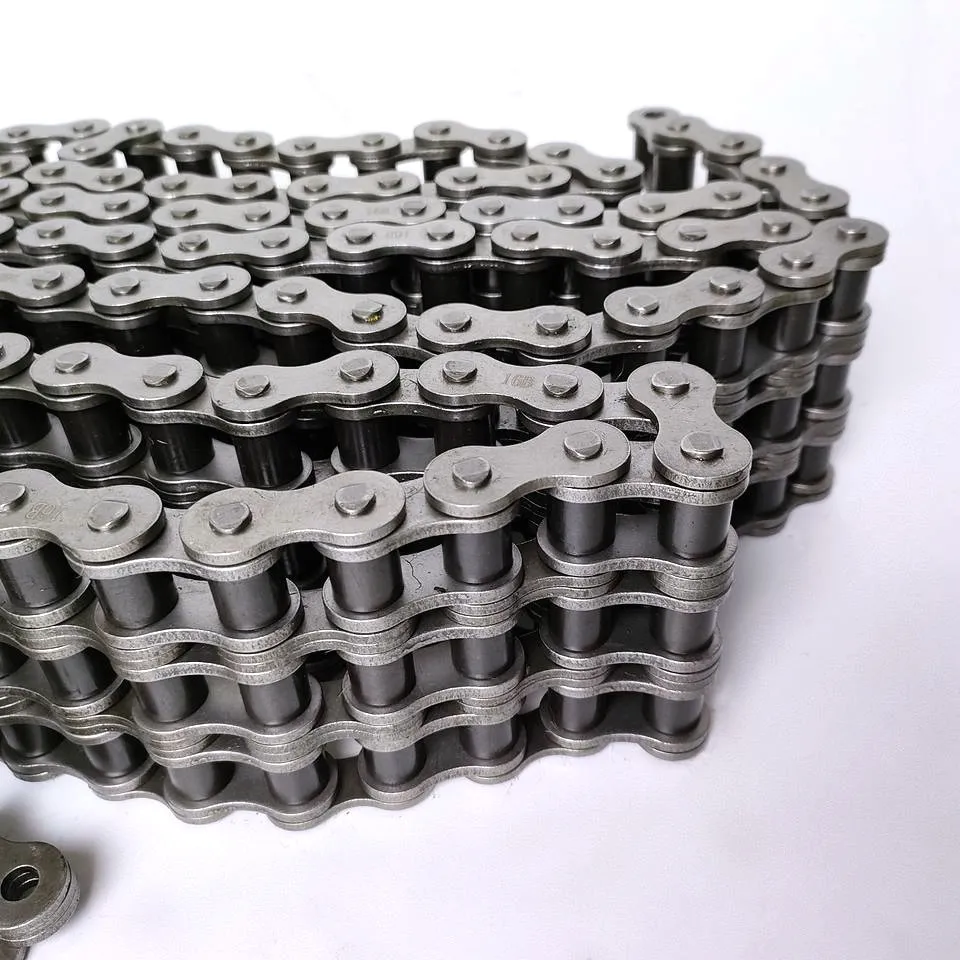 What are the benefits of using a roller chain in printing machinery?
Roller chains offer several advantages when used in printing machinery. Here's a detailed answer to the question:
1. High Strength and Durability: Roller chains are designed to withstand heavy loads and provide high tensile strength, making them suitable for the demanding requirements of printing machinery. They can efficiently transmit power and handle the stress and torque generated during the printing process.
2. Precise and Reliable Power Transmission: Roller chains provide accurate and reliable power transmission, ensuring consistent and precise movement of the printing components. This is crucial for maintaining print quality, registration, and alignment of the printed material.
3. Wide Range of Speeds: Roller chains can accommodate a wide range of speeds, allowing for flexibility in printing machinery. Whether it's high-speed printing or slower, more precise operations, roller chains can adapt to different speed requirements.
4. Easy Installation and Maintenance: Roller chains are relatively easy to install and maintain. They can be adjusted, lubricated, and replaced as needed, minimizing downtime and ensuring the continuous operation of printing machinery.
5. Versatility and Adaptability: Roller chains can be customized to meet specific requirements of printing machinery, such as different chain sizes, lengths, and attachments. This versatility allows for easy integration into various types of printing equipment and processes.
6. Cost-Effective Solution: Roller chains offer a cost-effective power transmission solution for printing machinery. They have a long service life, reducing the need for frequent replacements, and their availability in various sizes and configurations allows for efficient use in different printing applications.
In summary, the use of roller chains in printing machinery provides strength, reliability, precision, and versatility. They contribute to the smooth operation of the equipment, ensuring high-quality prints and increased productivity in printing applications.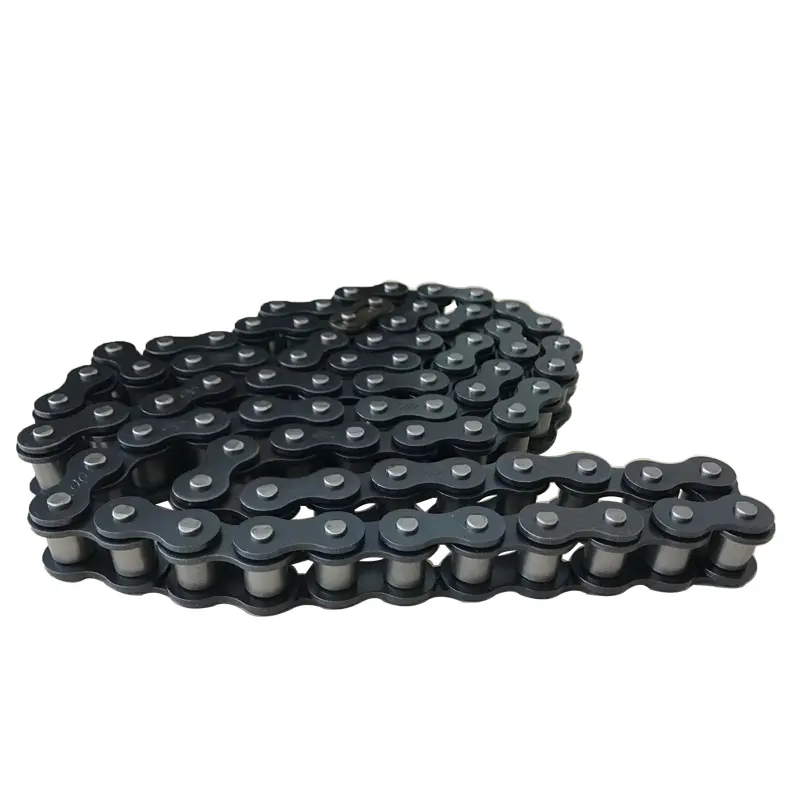 What are the common applications of roller chains?
Roller chains are widely used in various industries and applications where reliable power transmission is required. Here's a detailed answer to the question:
1. Industrial Machinery: Roller chains are commonly used in industrial machinery such as conveyors, material handling equipment, packaging machines, printing presses, textile machinery, and woodworking equipment. They provide efficient and reliable power transmission in these applications.
2. Automotive: Roller chains are used in automotive applications, including engine timing systems, camshaft drives, and drive chains for motorcycles and bicycles. They are known for their strength, durability, and ability to handle high loads and speeds.
3. Agriculture: Roller chains are extensively used in agricultural machinery, including tractors, combine harvesters, hay balers, and crop sprayers. They are capable of transmitting power in harsh and demanding agricultural environments.
4. Construction Equipment: Roller chains find applications in construction machinery such as excavators, bulldozers, cranes, and concrete mixers. They provide reliable power transmission for heavy-duty operations in construction sites.
5. Mining and Quarrying: Roller chains are used in mining and quarrying equipment, including rock crushers, conveyor systems, and drilling rigs. They are designed to withstand heavy loads, abrasive materials, and harsh operating conditions in these industries.
6. Food Processing: Roller chains with food-grade lubricants and corrosion-resistant coatings are used in food processing equipment, including conveyor systems, bottling machines, and bakery equipment. They meet the strict hygiene and safety standards required in the food industry.
7. Material Handling: Roller chains are essential in material handling systems, such as overhead cranes, forklifts, and palletizers. They enable smooth and reliable movement of goods in warehouses, distribution centers, and manufacturing facilities.
8. Power Transmission Systems: Roller chains are employed in power transmission systems that require efficient and precise power delivery, such as power presses, machine tools, and industrial automation equipment.
9. Renewable Energy: Roller chains are used in wind turbines and solar tracking systems to transmit power from the turbine or solar panels to the generator or electrical grid.
10. Marine and Offshore: Roller chains are utilized in marine and offshore applications, including shipbuilding, offshore drilling rigs, and port equipment. They provide reliable power transmission in challenging marine environments.
These are just some of the common applications where roller chains are widely used. The versatility, durability, and reliability of roller chains make them suitable for a wide range of industries and machinery.



editor by CX 2023-08-11